May 05, 2021
Lecture at the Paul Gerhardt School in Mettingen, NRW, Germany – this time digital!
It was time again for a lecture about whales, dolphins & porpoises at the Paul Gerhardt Elementary School in my home town Mettingen! Due to the current circumstances, it was not possible for me to visit the school, so we decided to do it as a webinar this time. Thanks to all the kids that tuned in and asked so many questions in the end! Fingers crossed the next lecture will be offline again. 🙂
Vortrag an der Paul-Gerhardt-Schule in Mettingen – diesmal digital!
Es war wieder Zeit für einen Vortrag über Wale, Delfine und Tümmler an der Paul-Gerhardt-Schule in meiner Heimatstadt Mettingen! Aufgrund der aktuellen Umstände war es mir nicht möglich, die Schule zu besuchen. Daher haben wir uns entschlossen, den Vortrag diesmal als Webinar anzubieten. Vielen Dank an alle Kinder, die dabei waren und am Ende so viele Fragen gestellt haben! Daumen drücken, dass der nächste Vortrag wieder offline stattfinden kann. 🙂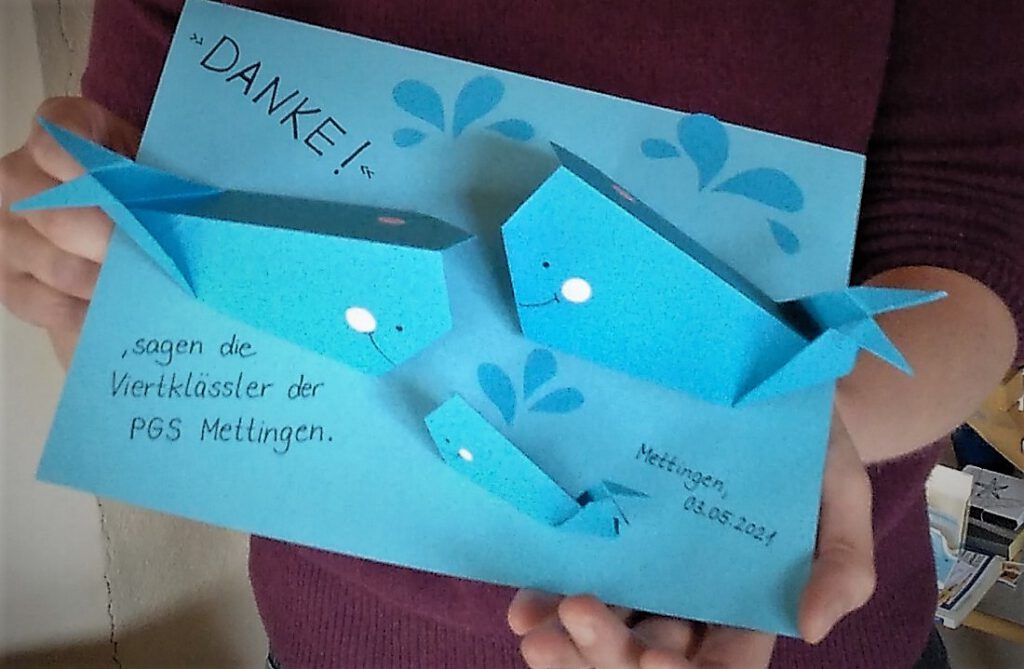 ---
Mai 10, 2019
"19 trips to Antarctica" – Article in lokal German newspaper in May 2020
Earlier this year (with lots of free time thanks to Covid lockdown #1 😛 ) I got in touch with the local newspaper in Germany which had published an article about my work in Iceland in 2016. My suggestion to write a few lines about the job as an expedition guide and impressions in Antarctica was accepted with great interest. The result is the following article which was published on May 18th. (Not available in English.)
"19 Reisen in die Antarktis" – Artikel in der IVZ im Mai 2020
Anfang des Jahres (mit viel freier Zeit dank Corona-Lockdown #1 😛 ) nahm ich Kontakt mit der Ibbenbürener Volkszeitung auf, die gleiche Zeitung, die bereits 2016 einen Artikel über meine Arbeit in Island veröffentlicht hatte. Meine Anfrage, einige Zeilen über den Job als Expeditionsguide und Eindrücke in der Antarktis zu schreiben, wurde mit großem Interesse angenommen. Entstanden ist draus der folgende Artikel, der am 18. Mai veröffentlicht wurde.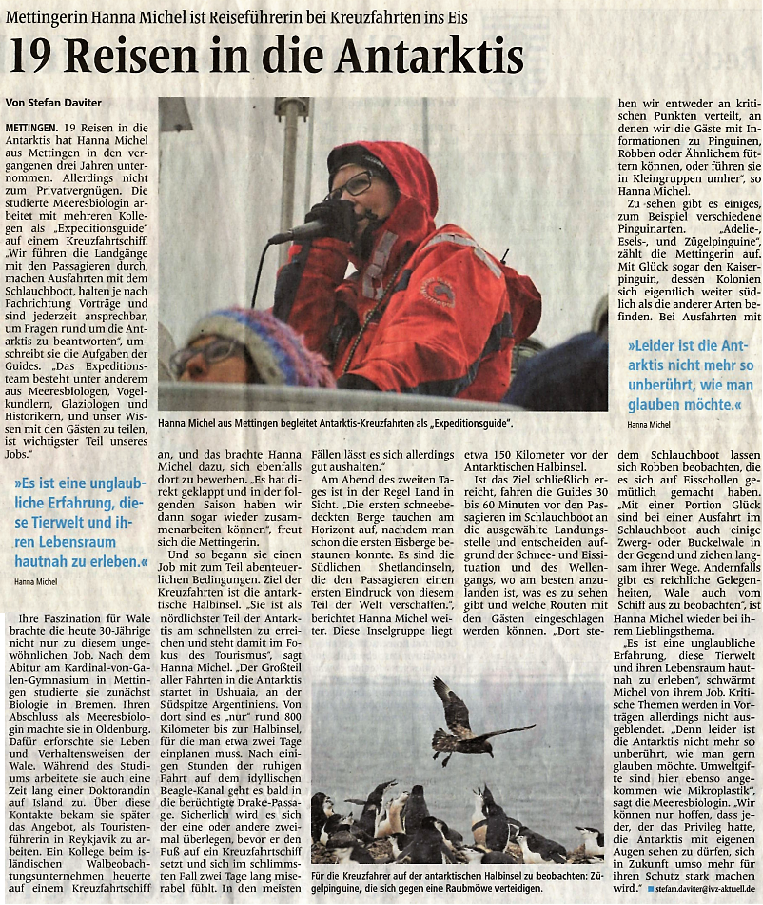 ---
June 15, 2019
Visiting the Paul Gerhardt School in Mettingen # 2
After two years I was back at the Paul Gerhardt Elementary School in Mettingen for a lecture for the fourth-grade students. Giving a lecture for primary students is in a way more challenging compared to an adult audience and makes a lot of fun thanks to their endless curiosity and numerous questions. Maybe there will be another opportunity next year? 🙂
Besuch in der Paul-Gerhardt-Schule in Mettingen #2
Nach gut zwei Jahren kehrte ich wieder zu einem Vortrag für die vierten Klassen in der Paul-Gerhardt-Grundschule in Mettingen ein. Einen Vortrag vor Grundschülern zu halten ist herausfordernder als vor Erwachsenen und macht dank ihrer endlosen Neugierde und vielen Fragen sehr viel Spaß. Vielleicht ergibt sich im nächsten Jahr wieder eine Gelegenheit? 🙂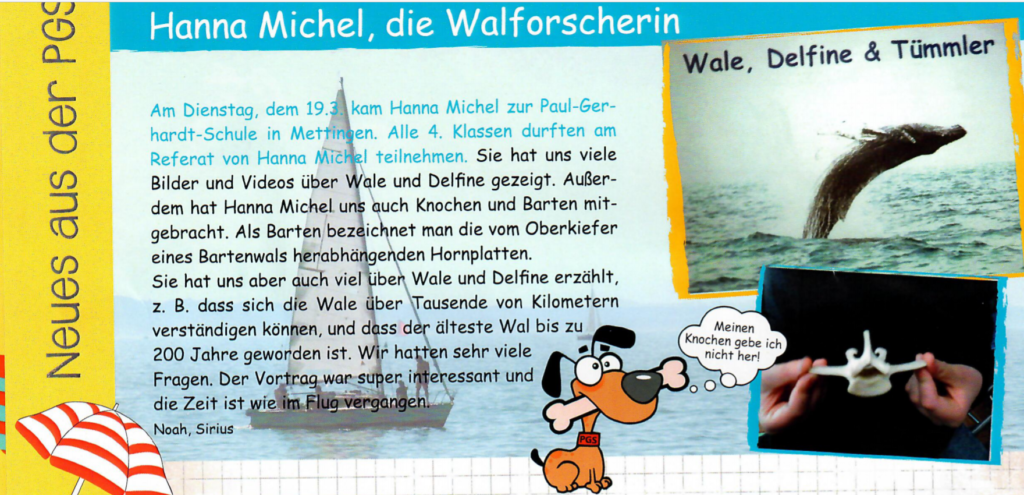 ---
June 20, 2017
Visiting the Paul Gerhardt School in Mettingen # 1
In June 2017 I visited the Paul Gerhardt Elementary School in Mettingen for e lecture about of whales and dolphins for the fourth grade students. With great enthusiasm and countless questions coming from the kids the two hours went by in a flash. Maybe there were some future marine biologists among them!? 😉
In the following edition of the school newspaper the visit was recalled including some photos. Many thanks to the students and teachers for the invitation!
Besuch in der Paul-Gerhardt-Schule in Mettingen #1
Im Juni 2017 besuchte ich die Paul-Gerhardt-Grundschule in Mettingen und durfte den SchülerInnen der dritten und vierten Klassen das Leben der Wale und Delfine näher bringen. Mit großer Begeisterung und unzähligen Fragen der Kinder vergingen die zwei Schulstunden wie im Flug. Vielleicht waren ja einige zukünftige MeeresbiologInnen dabei!? 😉
In der folgenden Ausgabe der Schülerzeitung wurde der Besuch inklusive einiger Fotos festgehalten. Vielen Dank an die Schüler und Lehrer für die Einladung!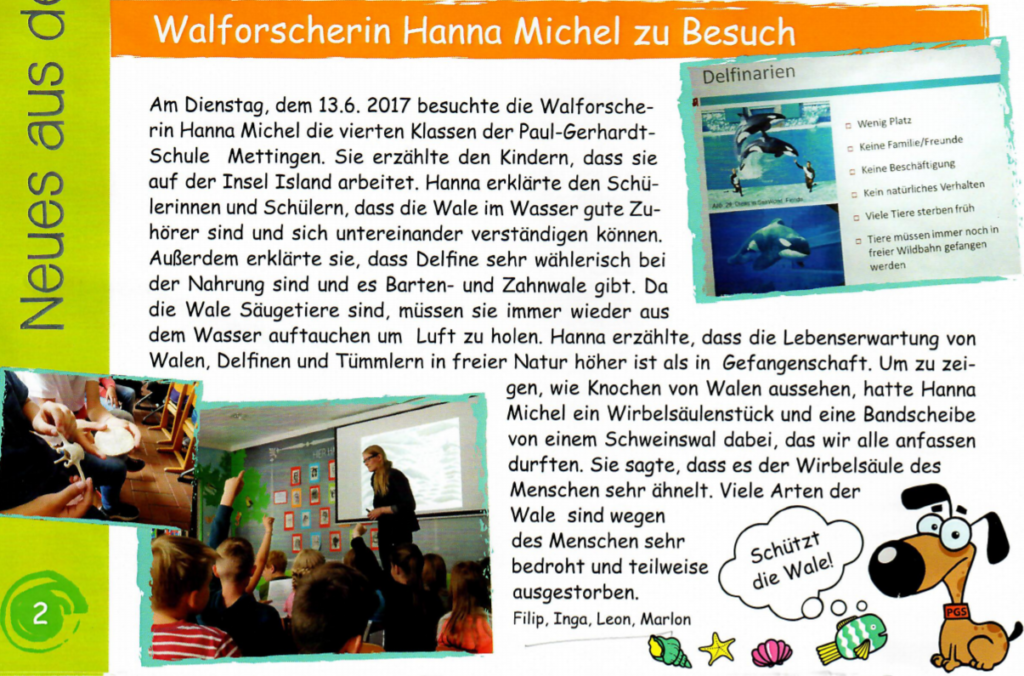 ---
German TV crew joins whale watching tour in Reykjavìk, Iceland
WDR-Team beim Whale Watching: "Wunderschön! Island – Feuer, Eis und Wasserfälle"
EN: One morning in summer 2015, the crew of a German TV channel turned up in Reykjavík's Old Harbor, dragged their equipment onto one of the whale watching vessels from Elding Adventure at Sea and came with me on a tour to the whales. They were shooting for an episode of the travel magazine "Wunderschön!" from the German TV channel WDR. The host Stefan Pinnow asked a few questions about the procedure of the tour, which I was happy to answer. Main subject was the so-called "Code of Conduct" which we follow in order to minimize our disturbance.
DE: Im Sommer 2015 tauchte eines Morgens ein Fernsehteam im "Old Harbour" von Reykjavìk auf, schleppte ihr Equipment auf eines der Walbeobachtungsschiffe von Elding Adventure at Sea und kam mit mir auf eine Tour zu den Walen. Gedreht wurde für eine Sendung des Reisemagazins "Wunderschön!" vom WDR. Stefan Pinnow stellte ein paar Fragen zum Ablauf der Tour, die ich gern beantwortete. Hauptsächlich ging es um den sogenannten "Code of Conduct", dem Verhaltenskodex, an den wir uns halten, um die Tiere so wenig wie möglich zu stören.
Meine glorreichen 40 Sekunden ( 😉 ) wurden am Sonntag, den 24.04.2016, um 20:15 ausgestrahlt. Es war dieser unerwartete Mini-Auftritt, der letztendlich zum zuvor geposteten Artikel in der IVZ führte.
Den Link zur Sendung gibt's hier.
---
"Always on the trail of whales" – Article in lokal German newspaper
A small memory from 2016, when a local German newspaper article was published after my first year in Reykjavìk. (Not available in English.)
"Walen immer auf der Spur" – Artikel in der IVZ
Eine kleine Erinnerung aus 2016, als ein Artikel in der Ibbenbürener Volkszeitung nach meinem ersten Jahr in Reykjavìk veröffentlicht wurde.