Happy end for Humpback whale "Nettie" // Happy end für Buckelwal "Nettie"
On 31 July 2015, a Humpback whale we had never seen before was sighted on one of the Whale watching tours in Faxaflói, the bay off the coast of Reykjavík. As we carefully approached the animal, our hearts dived: The whale was severely entangled in fishing gear. Some fishing lines were wrapped around its entire body. Analyzing photos of the whale revealed that the poor whale was entangled in four different types of fishing nets tied from mouth to tailstock.
Luckily, this Humpback whale decided to stick around. We frequently encountered him/her (we don't know whether this whale is male or female) during tours, anxious to see how he/she was doing and carefully making sure not to disturb the distressed animal. It was my then guide colleague Jack who started affectionately calling this Humpback whale "Nettie" – the name was officially adopted.
---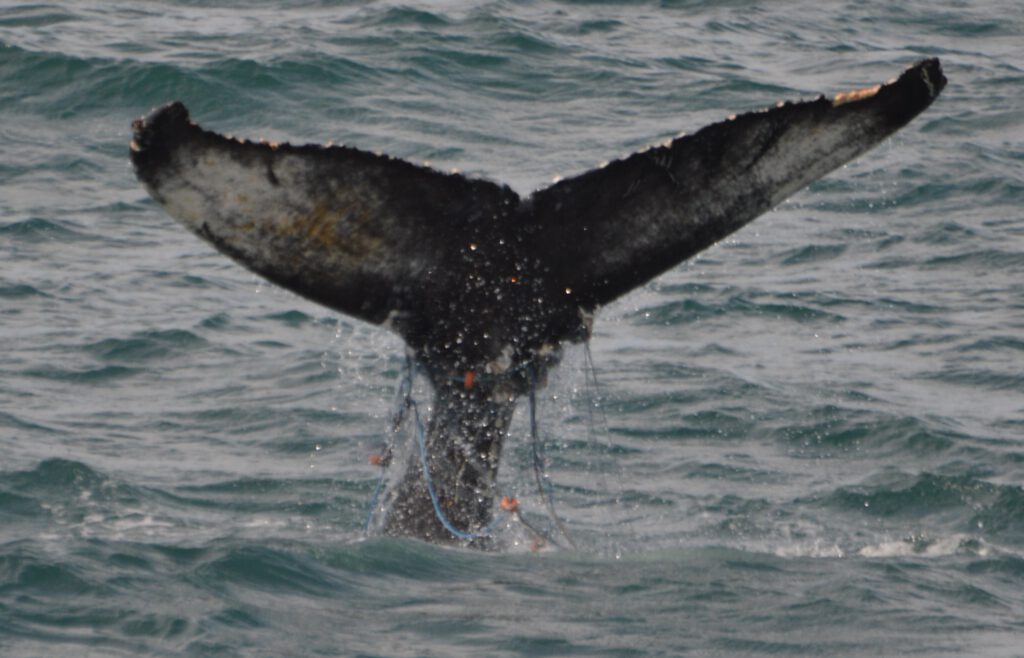 ---
Nettie quickly became everybody's favorite and it was hard to the nets incised into her skin and blubber. During this time, Nettie was very active, often breaching, pec-slapping, and tail-slapping. Even though normally it is great to see a whale showing these behaviors, in Nettie's case it was most likely the nets causing a lot of agitation.
IFAW to the rescue
In order to assess the situation and hopefully help Nettie, experts from the International Fund for Animal Welfare (IFAW) and the British Divers Marine Life Rescue (BDMLR) made their way to Iceland.
They decided to give Nettie's disentanglement a try. On 16 August, after 3 rescue attempts during a total of 19 hours stretched over several days, attaching six boys to her in order to slow her down, Nettie was almost completely disentangled.
---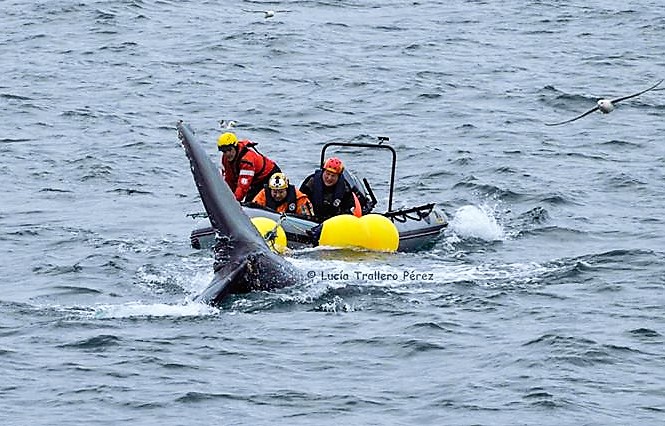 ---
Shortly afterwards, this beloved Humpback whale left Faxaflói. We were sad to see her leave but happy to know she could finally swim free without the nets causing any more harm to her.
And as if she knew we'd love to know that she was doing okay, Nettie returned to Faxaflói on 28 September that same year. Even after just a few weeks, the wounds around her tailstock had started to heal and Nettie made a much more energetic and normal impression than before. I know this is a very non-scientific statement but of course, it felt like Nettie was saying "thank you" and wanted to let us know that she was fine (honestly, who wouldn't feel like that? 🙂 ).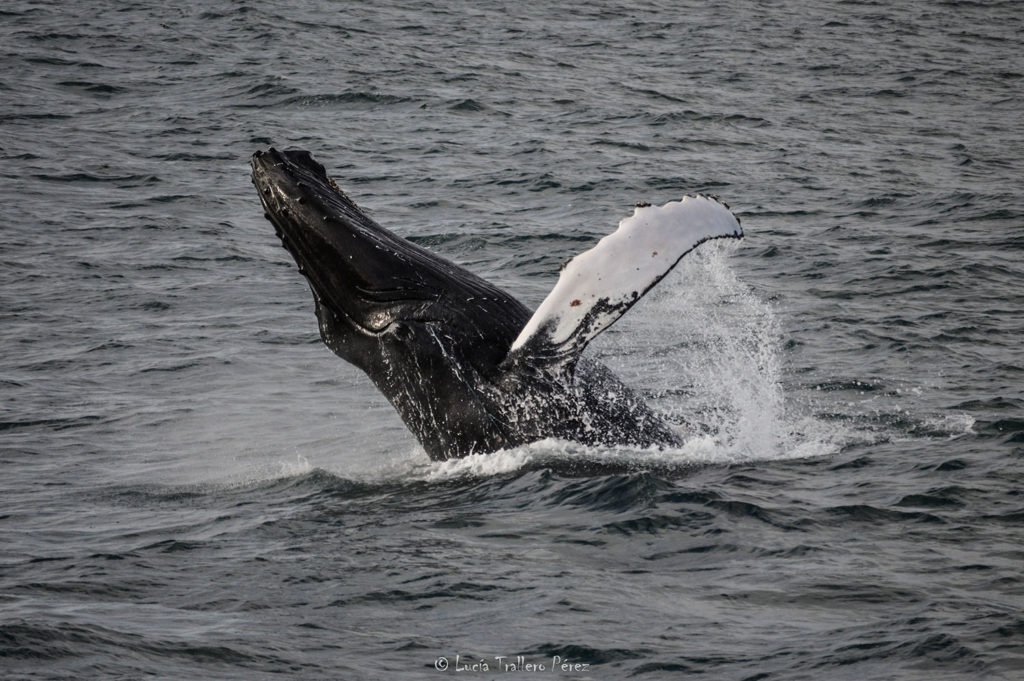 Disentanglement is not the solution
As described in my previous post from 27th May, there are practical and relatively easy solutions out there to prevent entanglement in the first place. For many reasons, disentanglement cannot be the solution to this problem.
Disentanglement depends on many very variables like wind and sea conditions and the whale's behaviour without any guarantee of success. Special equipment, boat support, and expert staff make it a costly undertaking. To give you an idea, the Vancouver Aquarium estimates the costs for the disentanglement operation of a sea lion at between US$ 2,500 – 7,500. And let's not forget that disentangling a whale is extremely dangerous. In 2017, a Canadian fisherman died during the disentanglement of a North Atlantic Right Whale after accidentally being struck by the animal. It's also important to realize that we never even encounter most whales that end up entangled. People risking their lives disentangling whales from fishing gear can't be a solution, neither for the whales nor for people.
Nettie was one of the whales that this worked out for – I hope she's still swimming out there in the North Atlantic and growing strong. And I hope that no fishing gear will ever come in his/her way again. Or any other whale's way for that matter!
---

Am 31. Juli 2015 wurde ein Buckelwal, den wir noch nie gesehen hatten, auf einer der Walbeobachtungstouren in Faxaflói, der Bucht vor der Küste von Reykjavík, gesichtet. Als wir uns dem Tier vorsichtig näherten, tauchten unsere Herzen: Der Wal war stark in Angelausrüstung verwickelt. Einige Angelschnüre waren um den gesamten Körper gewickelt. Die Analyse der Fotos des Wals ergab, dass der arme Wal in vier verschiedene Arten von Fischernetzen verwickelt war, die vom Maul bis zur Schwanzflosse reichten.
Glücklicherweise entschied sich dieser Buckelwal, hier zu bleiben. Wir sind ihm/ihr (wir wissen nicht, ob's ein Männchen oder Weibchen ist) häufig auf Touren begegnet, um zu sehen, wie es ihm/ihr geht, und um sicherzustellen, dass das notleidende Tier nicht gestört wird. Es war mein damaliger Reiseleiter-Kollege Jack, der diesen Buckelwal liebevoll "Nettie" nannte – der Name wurde offiziell angenommen.
Nettie wurde schnell zu jedermanns Liebling und es war schwer für die Netze, die in ihre Haut und ihren Speck eingeschnitten waren. Während dieser Zeit war Nettie sehr aktiv und verletzte oft, schlug auf die Brust und schlug auf den Schwanz. Obwohl es normalerweise großartig ist, einen Wal zu sehen, der diese Verhaltensweisen zeigt, waren es in Netties Fall höchstwahrscheinlich die Netze, die dieses Verhalten verursachten.
IFAW zur Rettung
Um die Situation einzuschätzen und Nettie hoffentlich zu helfen, machten sich Experten des Internationalen Tierschutzfonds (IFAW) und der British Divers Marine Life Rescue (BDMLR) auf den Weg nach Island.
Sie beschlossen, Netties Entflechtung zu versuchen. Am 16. August, nachdem sich drei Rettungsversuche über insgesamt 19 Stunden über mehrere Tage erstreckten und sechs Jungen an sie gebunden hatten, um sie zu verlangsamen, war Nettie fast vollständig entwirrt.
Kurz darauf verließ dieser geliebte Buckelwal Faxaflói. Wir waren traurig, sie gehen zu sehen, aber froh zu wissen, dass sie endlich frei schwimmen konnte, ohne dass die Netze ihr mehr Schaden zufügten.
Und als ob sie wüsste, dass wir gerne wissen würden, dass es ihr gut geht, kehrte Nettie am 28. September desselben Jahres nach Faxaflói zurück. Schon nach wenigen Wochen hatten die Wunden an ihrer Schwanzflosse zu heilen begonnen und Nettie machte einen viel energischeren und normaleren Eindruck als zuvor. Es ist zwar wahnsinnig unwissenschaftlich, das zu sagen, aber natürlich fühlte es sich so an, als würde Nettie "Danke" sagen und wollte uns wissen lassen, dass es ihr gut geht (mal ehrlich, wem würde es nicht so gehen? 🙂 ).
Das Entwirren von verstrickten Walen ist nicht die Lösung
Wie im vorherigen Beitrag vom 27. Mai beschrieben, gibt es praktische und recht einfache Lösungen, um Verstrickungen zu verhindern. Aus vielen Gründen kann das sogenannte Disentanglement nicht die Lösung für dieses Problem sein.
Disentanglement hängt von vielen Variablen ab, wie Wind- und Seebedingungen und dem Verhalten des Wals, ohne dass eine Erfolgsgarantie besteht. Spezielle Ausrüstung, Bootsunterstützung und Fachpersonal machen es zu einem kostspieligen Unterfangen. Um dir eine Vorstellung zu geben, schätzt das Vancouver Aquarium die Kosten für das Entwirren eines Seelöwen auf zwischen 2.500 und 7.500 US-Dollar. Und vergessen wir nicht, dass das Entwirren eines Wals äußerst gefährlich ist. 2017 starb ein kanadischer Fischer bei der Entflechtung eines Atlantischen Nordkapers. Es ist auch wichtig zu realisieren, dass wir die meisten Wale, die sich verstricken, nie zu Gesicht bekommen. Menschen, die ihr Leben riskieren, um Wale von Fanggeräten zu entwirren, können weder für die Wale noch für die Menschen eine Lösung sein.
Nettie war einer der Wale, bei denen es geklappt hat – ich hoffe, er/sie schwimmt immer noch im Nordatlantik umher und wächst und gedeiht. Und ich hoffe, dass ihm/ihr nie wieder ein Fischernetz in den Weg kommt. Weder Nettie noch einem anderen Wal!